His backing of Farage for ambassador to the US is a slight on Westminster that shows up Mays calculated risk to get close to him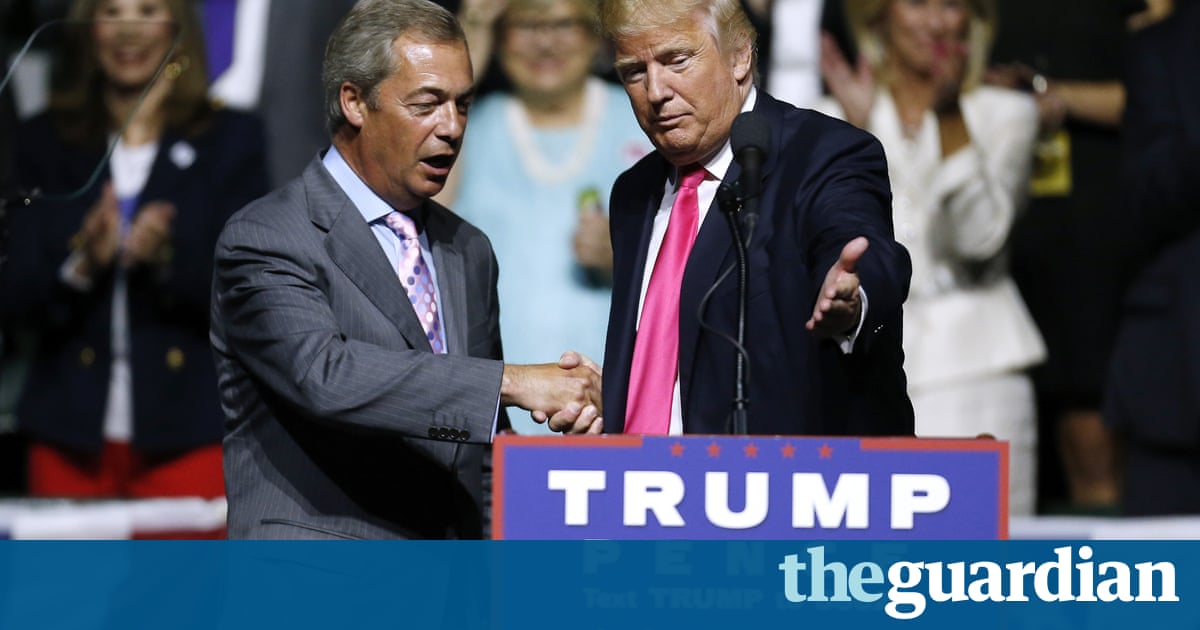 Donald Trumps interest in other world leaders has sometimes seemed closely related to whether or not his family has a golf course or luxury hotel under construction in their territory. The conversations reportedly turn as much to completing a planning permission as a peace process.
So it will have been with alarm that Downing Street woke up this morning to find Donald Trump has been involved in some more Twitter diplomacy advising that Nigel Farage, the interim Ukip leader, would make a great UK ambassador to Washington.
Apart from underlining how social media has become integral to modern politics, the tweet reveals how strong and deep Trumps connections are with the Farage Ukip team, how little he possibly cares or possibly knows about diplomatic protocol, and how much his ego precedes all else.
Above all, it reveals that Trump of the stump, on becoming president-elect, has not yet morphed into something more predictable or malleable.
At Trump Towers, conventions continue to exist to be broken, and no profession likes its conventions more than diplomacy.
The calculus in the Foreign Office will be whether the tweet was a considered attempt to marginalise its professional diplomatic network and its Conservative party leadership, or just a show of friendship to a longstanding ally with little thought for the discourteous consequences.
Either way, it is a blow to the government that has been doing all it can to make itself amenable to Trump, and in the process make Trump himself more amenable.
The foreign secretary, Boris Johnson, has described him as a liberal New Yorker, and advised his European colleagues to stop their moaning and end their collective whinge-o-rama over his election. He snubbed a probably ill-judged European foreign ministers meeting convened in what looked like an emergency session to discuss his election.
In a bid to see off earlier Farage efforts to act as go-between between Downing Street and the Trump Transition team, someone leaked a memo to the Sunday Times written by Sir Kim Darroch, the UK ambassador to the US, designed to show how close he was with senior Republican figures, and had not put all his eggs in the basket of Hillary Clinton victory. No 10 itself even unveiled its secret weapon the chance of a UK state visit for the Trump family including an invitation to a nights stay in Windsor castle with the Queen.
More deeply, the episode shows how the UK government, for historical security and economic reasons, feels forced to take a calculated risk and get close to Trump. Proximity to the president of the United States has been the iron rule of UK foreign policy, and in some ways the whole Iraq episode, involving Tony Blair, is an example of the perils of trying to get close to an unpredictable administration. According to Sir Jeremy Greenstock, the former UK ambassador to the UN, in his book All Out War, the UK repeatedly overestimated the extent to which it could influence the George Bush administration.
The calculation now, only just starting, is how Trump will behave on the world stage, and how much the UK wants to walk in his shadow, or instead take a discreet step away.
Read more: http://www.theguardian.com/us